you are here: home > products > ant8
The Ant8 logic analyzer is compact, easy to use, powerful, and inexpensive.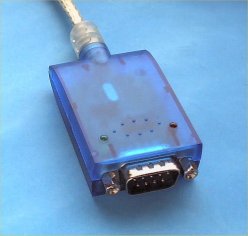 Key Features
Ultra-portable - fits in a pocket.
Powered from USB port - no additional power supply required
8 Channels, 3072 samples deep
500MHz sampling speed
Applications run on any recent version of Windows
Inexpensive
Simple or Complex triggering
Software upgradeable
View captured traces on the display of your PC
Control Panel Software
Familiar Windows interface
Data saved as plain text or in CSV format
Step-by-step instrument setup and trigger setup.
Upgradeable via the internet
Click here to download and evaluate the Ant control panel software.
Click here for screenshots from the control panel software.
PC Requirements
USB socket. Either a USB socket on the PC or a socket on a powered USB Hub
Windows 98, ME, 2000, or XP
More information
Click here for detailed specifications.
Please note that the Ant8 is high-performance test equipment. It is designed for users who are familiar with electronic design and debugging, and familiar with the usual safety precautions when working with electronic equipment.